115 Savannah Rd., Lewes, DE  19958

(302) 645-1922 Phone* * (302) 644-1366 - Fax

Email:  debbie@cleancutpavers.com

©2013,Clean Cut Interlocking Pavers & Custom Inground Fiberglass Swimming Pools, All Rights Reserved.

Imagine being able to take a refreshing dip in your own backyard swimming pool during those hazy, hot and humid days of summer!  Whether you are dreaming of a peaceful retreat, a special place for family fun, or an upscale area to entertain friends, we can transform your backyard into the outdoor living space you've always dreamed of.

At Clean Cut, it is our mission to make sure your new inground fiberglass swimming pool is installed by trained professionals, with no headaches or hassles for you, the homeowner!  We specialize in turn-key swimming pool packages, which means the homeowner only has to deal with one contractor. When you sign with us, we take care of every phase of installation, including design, permits, excavation, pool installation, plumbing & electrical hook-ups, paver or concrete deck, landscaping, filling the pool with water, equipment start up & fence installation.  Since most people don't have the time or patience to coordinate several contractors, our turn-key packages are very popular.

Start by calling our office to set up a free estimate.  Our general sales manager, Doug Arcos will schedule an appointment to meet with you at your home to discuss your project.  He will even take you to several of our previous jobs so you can check out the quality of our work and see the finished product. 

Of course spring & summer are our peak seasons, but we can also install pools in the fall & winter, as long as the ground is not frozen.  Our schedule fills up very quickly once the weather warms up, so don't wait!  Planning ahead will allow you to enjoy your new swimming pool for the entire season!  

We are your local dealer for 4 top-of-the-line fiberglass swimming pool manufacturers.  Please click on the logos below to be linked to their websites, where you can view each of their pool models, sizes, depths and colors.

#1 ~ Ready to start excavation

#2 ~ Geo-textile fabric is installed

#3 ~ Stone Bed is installed

#5 ~ A Crane Lifts the pool

#6 ~ Pool is set into place & backfilled

#7 ~ Prepare for concrete collar

#8 ~ Bullnose coping is installed

#9 ~ Pool, Pavers & Fence Complete!

The Short Version of Swimming Pool Installation

Need Financing?  Although we do not offer financing ourselves, we do recommend LightStream, a division of SunTrust Bank. They offer a variety 

of pool and home improvement loan programs. 

For more information click the logo, or go to:

http://www.SwimmingPool.com/Lightstream/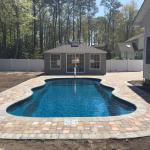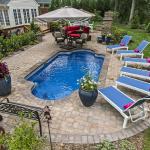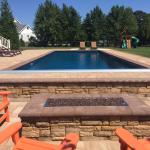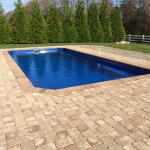 Inground 

Fiberglass

Swimming Pools

* * * * * * * * * * * * * * * * * * * * * * * * * * * * * * * * * * * * * * * * * * * * * * * * * * *

Take a look at some of the beautiful pools we have installed!  Yours could be next! Call us for your free estimate (302) 645-1922

* * * * * * * * * * * * * * * * * * * * * * * * * * * * * * * * * * * * * * * * * * * * * * * * * * *

A pool in your backyard means fun, fitness, friends and family!  Let us help you create the backyard you've been dreaming of!  Call us today for your free estimate: 

(302) 645-1922